If you love beer, you are in the right place!
If you love beer, you are in the right place!
WHAT IS A BEER-BIKE?
The concept of beer-bike, an environmentally-friendly vehicle with a bar, propelled by pedaling, has originated in the Netherlands, a huge competitor to Bratislava when it comes to drinking beer. The biggest advantage of our bike is that it´s built from light materials and therefore there's no need to put too much effort into pedaling. Our sober, English speaking driver, who is in charge of riding, stops at various locations to give you an insight into the magnificence of the Slovakia capital. Eight people is sufficient for easy ride around the city, while the remaining can enjoy the tour from the back sitting.
During the whole ride, there are several toilet breaks and so, nobody has to pee in public which is prohibited by law. The possibility of having an extra break, as well as switching seats, is a matter of course, all you need to do is inform the driver about it and wait until you arrive at the stop.
There's more to the bike than just being a mobile bar, it is a party vehicle drawing everybody's attention. Satisfy your taste buds drinking the premium draft beer poured to you by a friendly bartender/waitress and at the same time. The combination of these and all the Bratislava must-sees goes wonderfully together, leaving the clients energized. After it gets dark, the bike gets glowing with LED lights.
---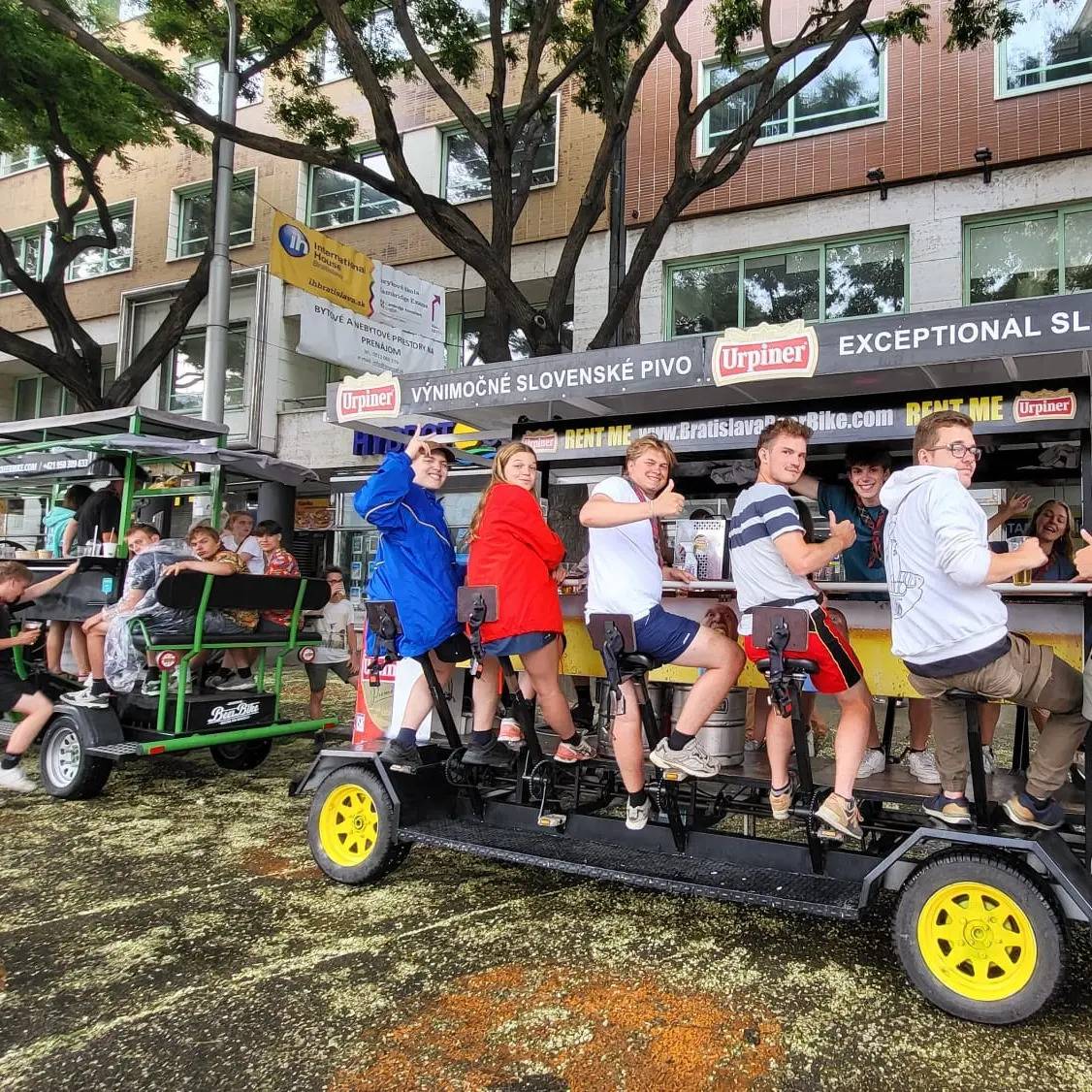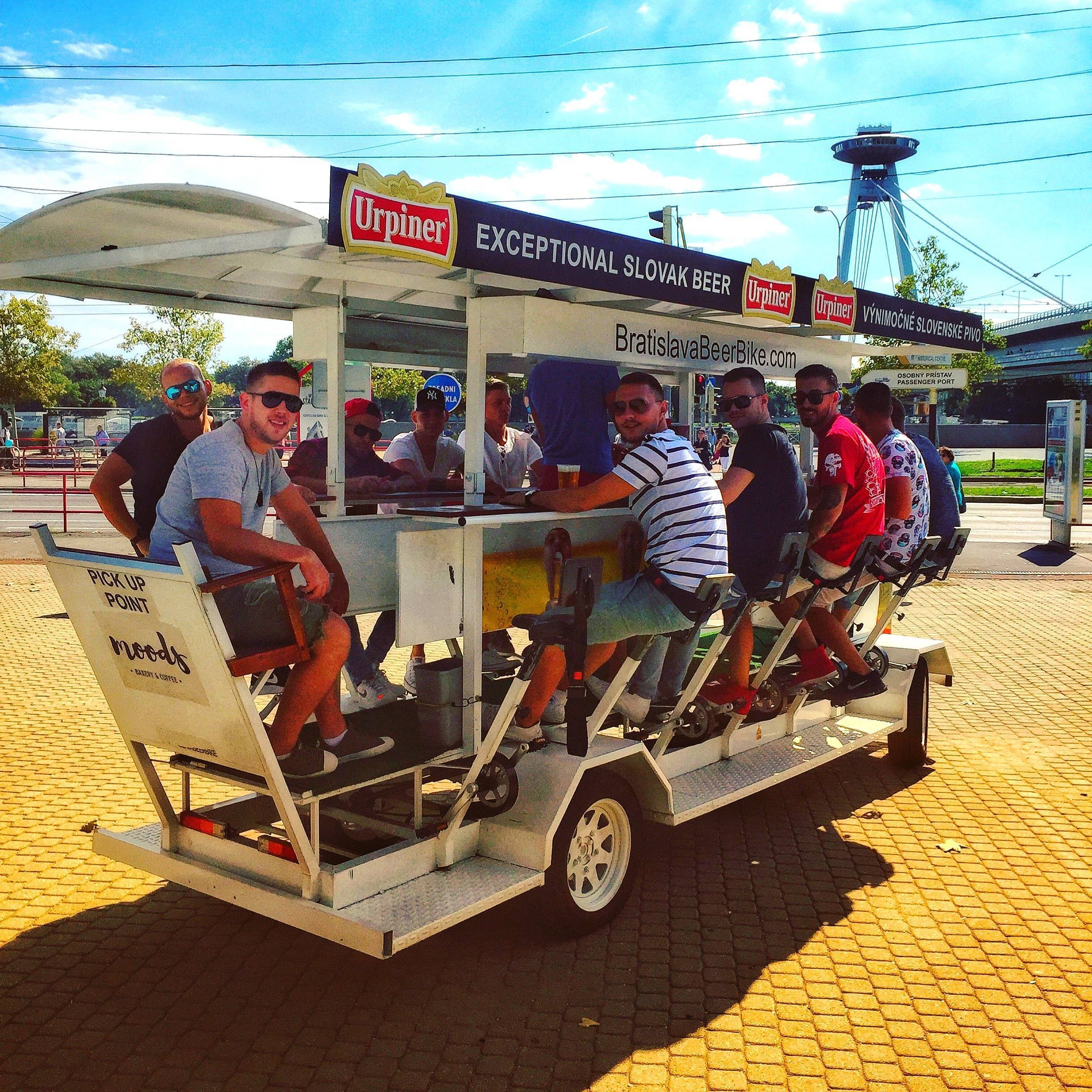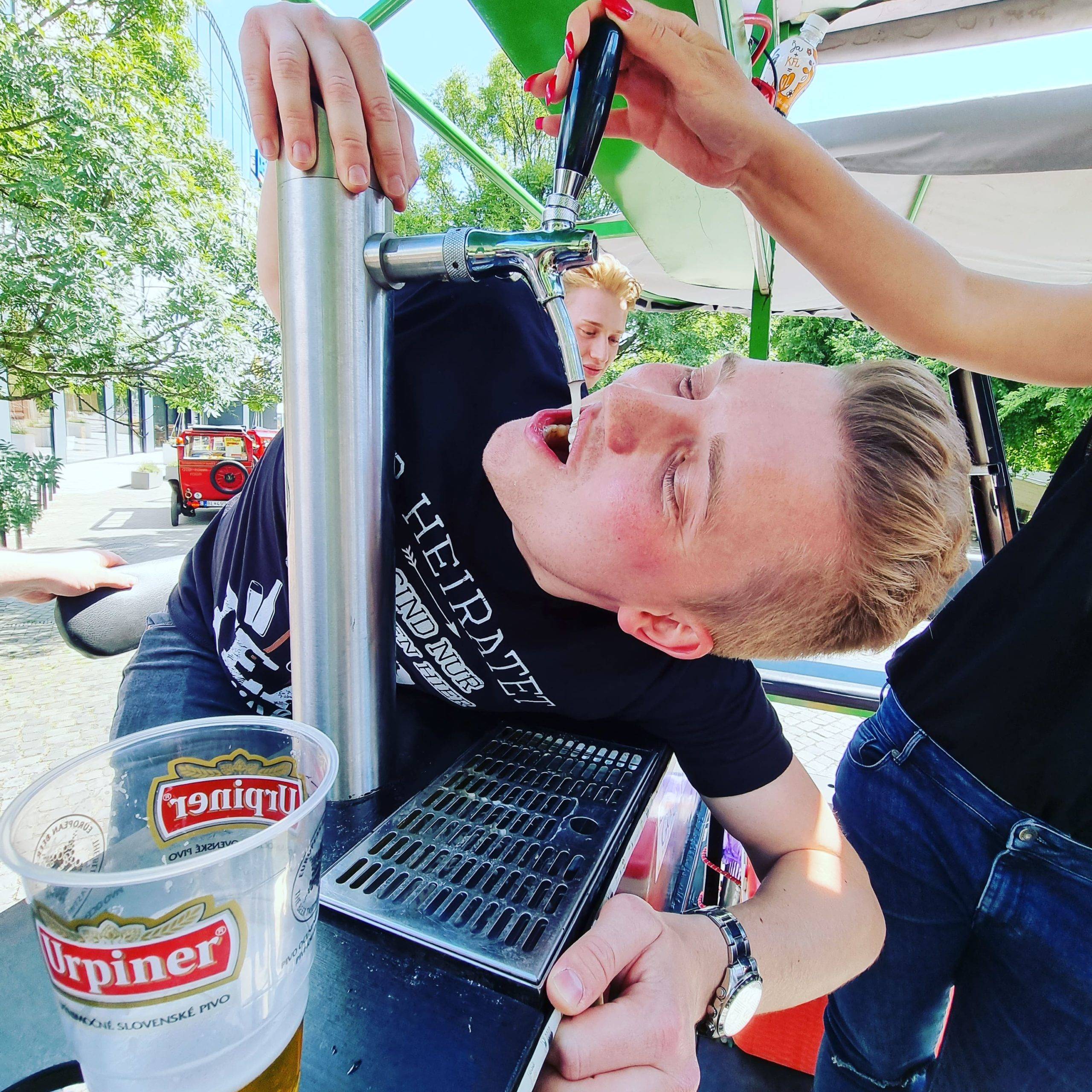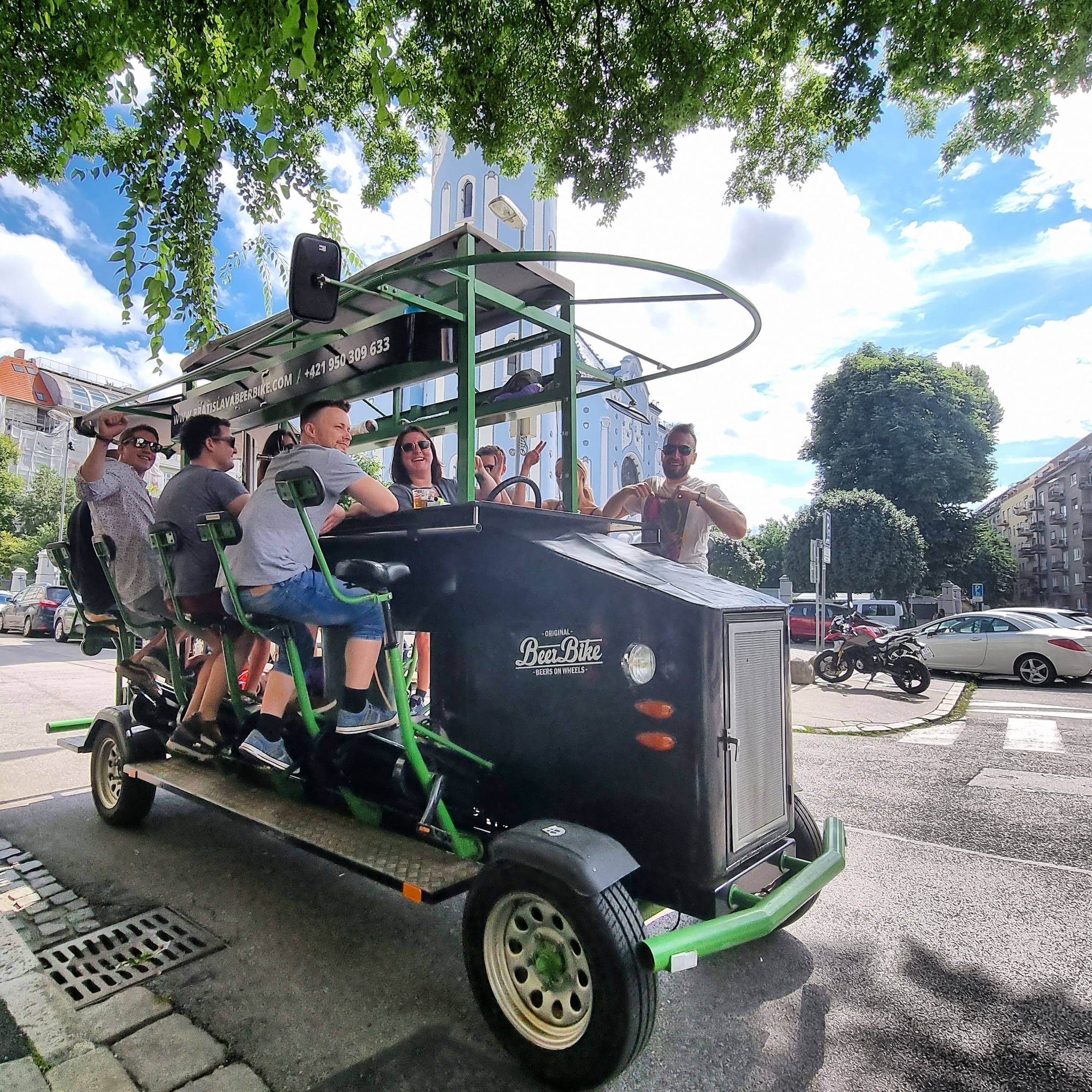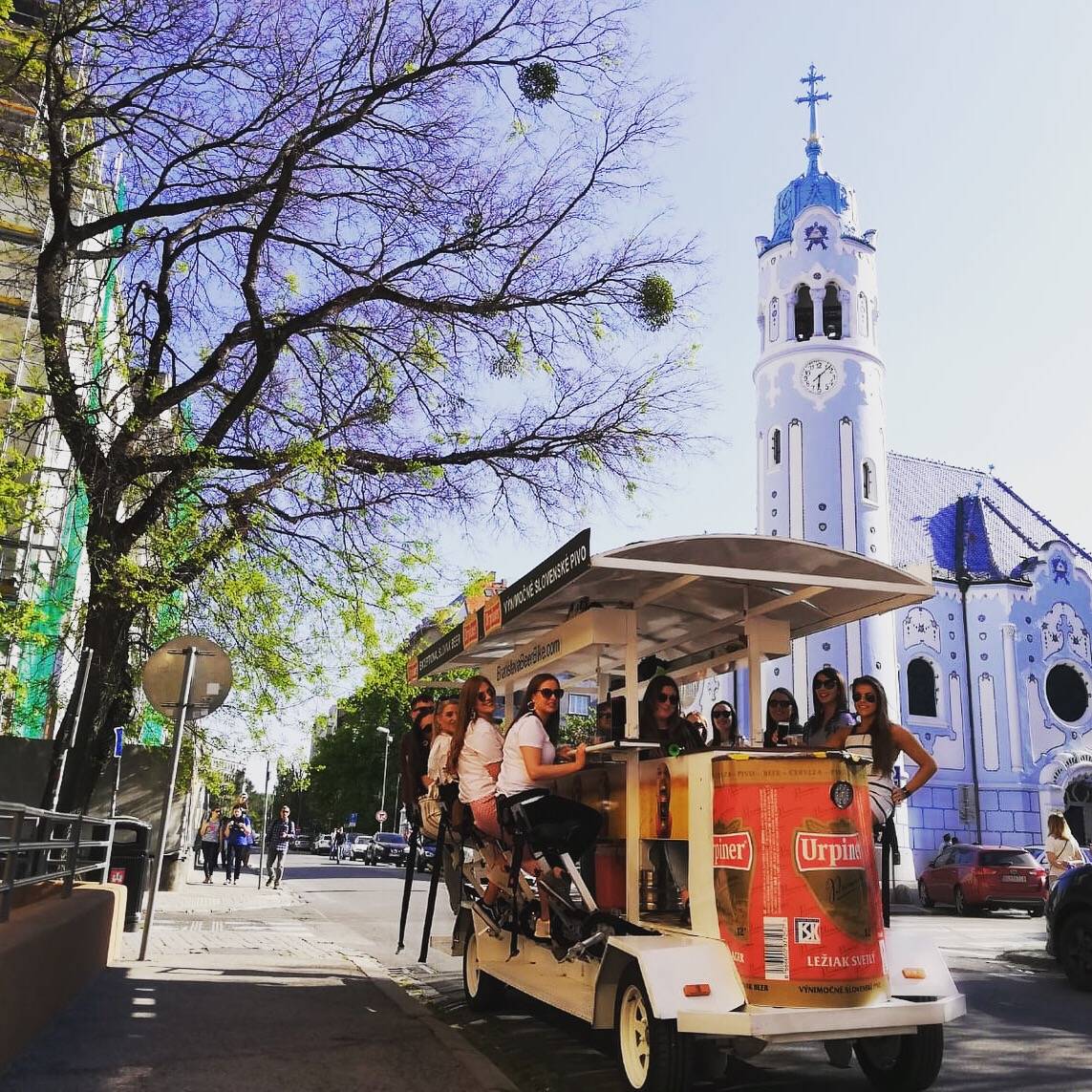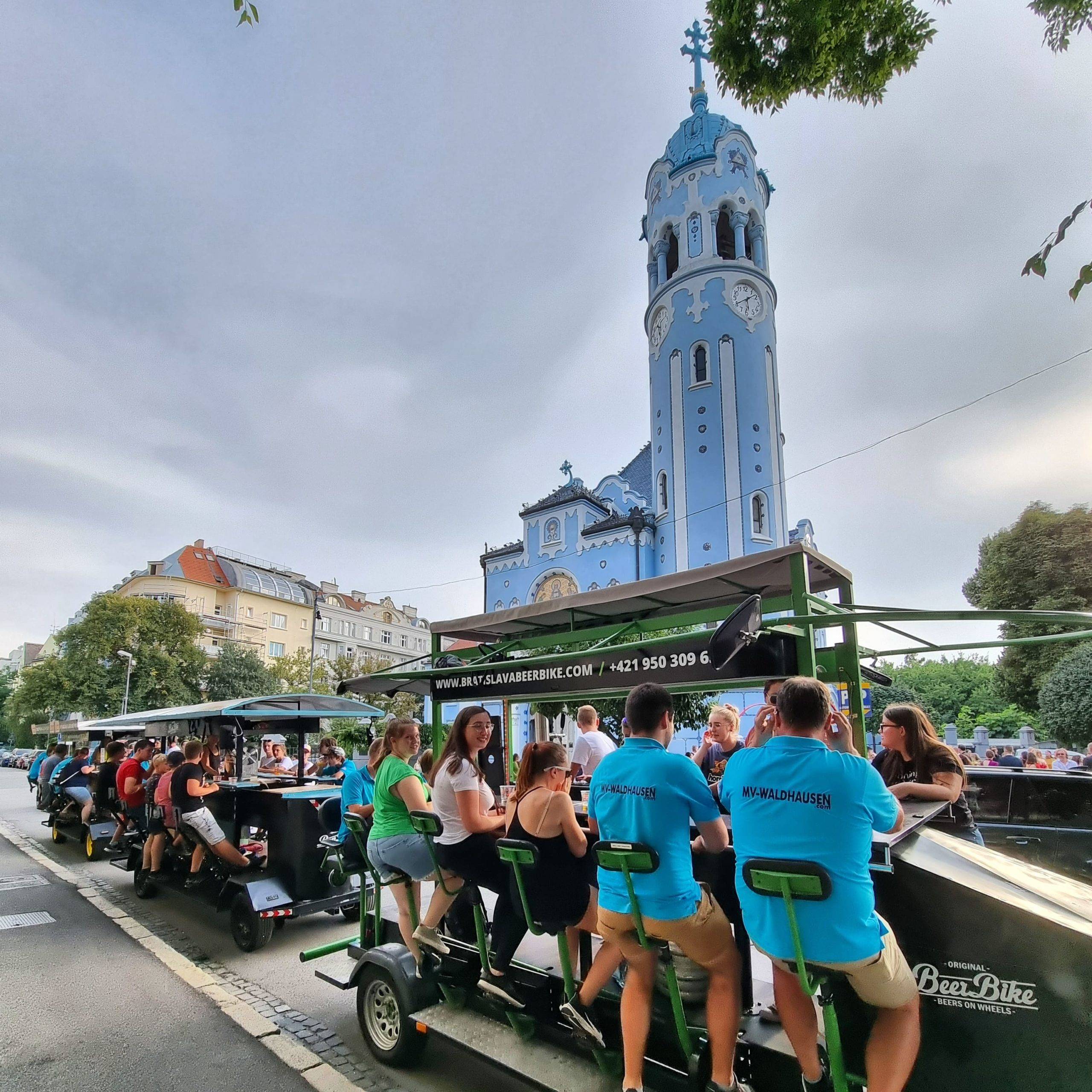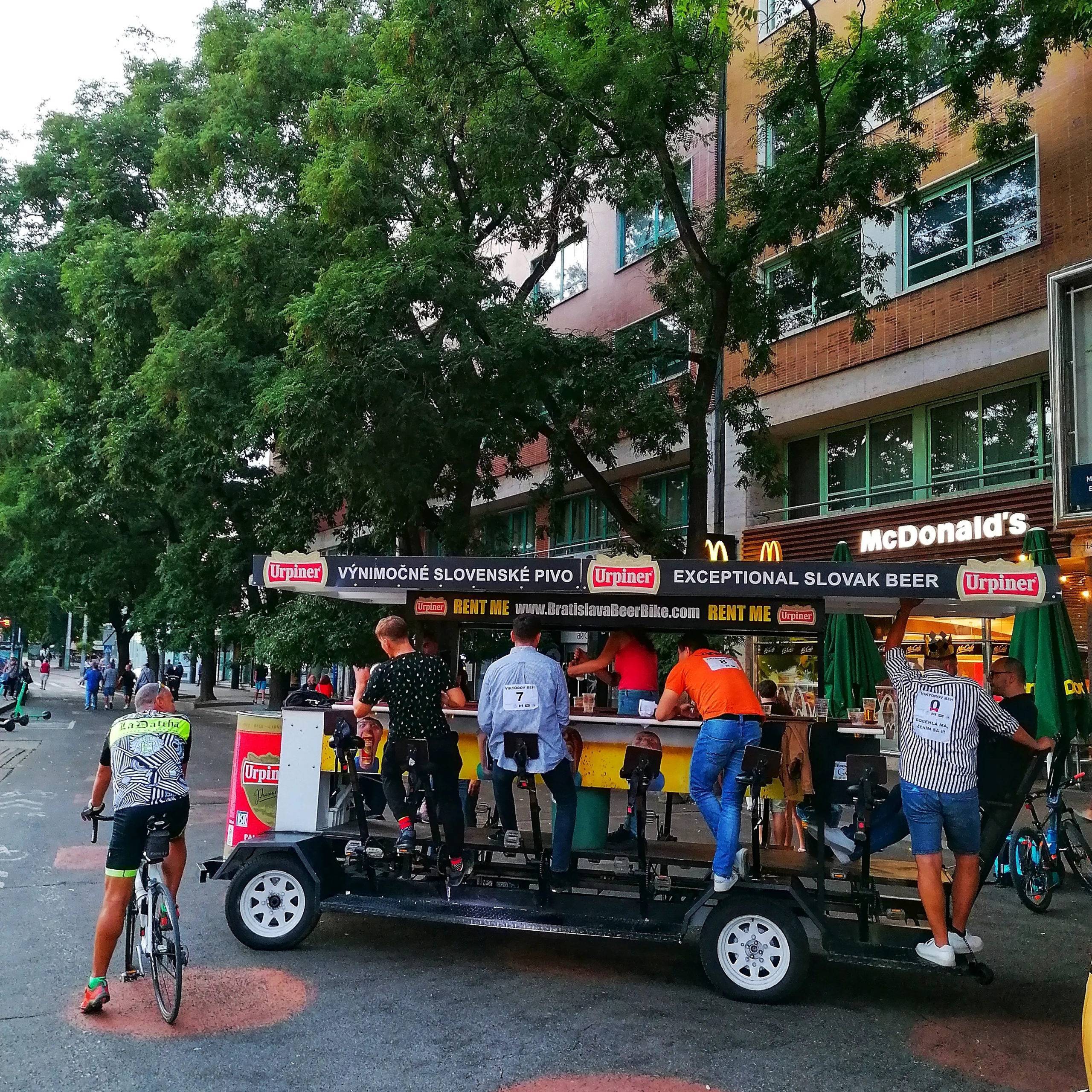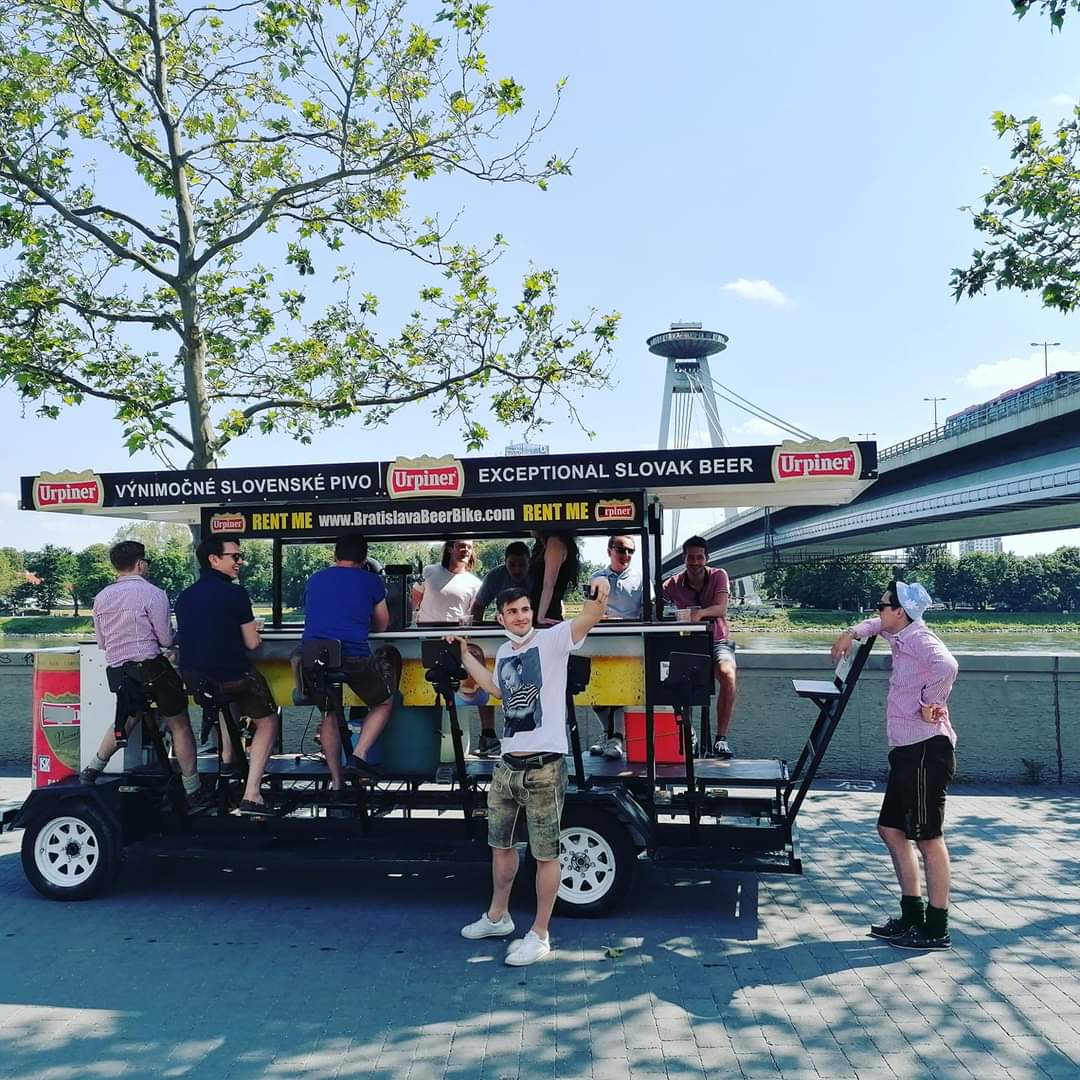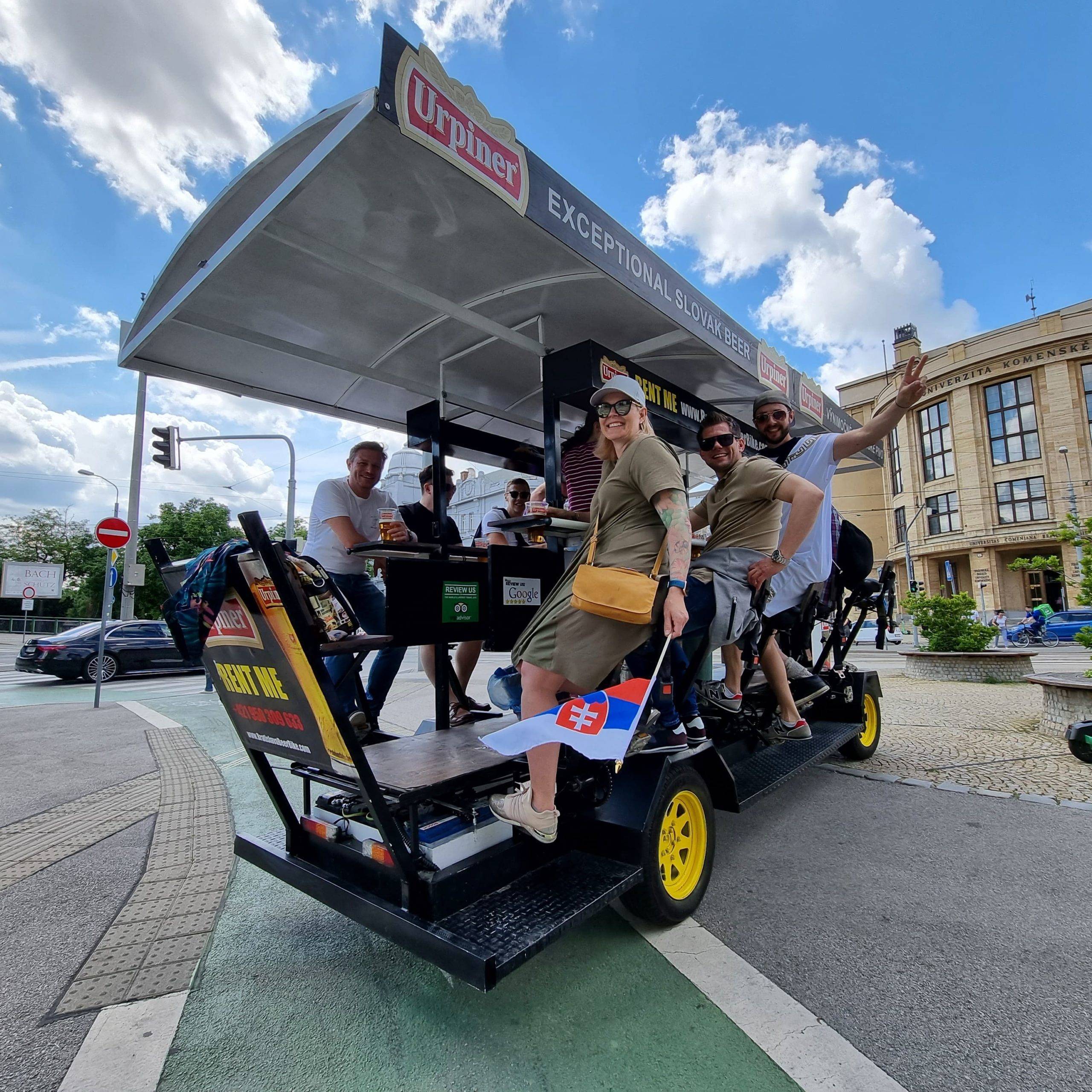 OUR ROUTE IN BRATISLAVA
The journey will take you in the very heart of the city from where it takes you to one of the city's most remarkable sights. Our basic route goes around Bratislava Old town square. You will go through the beautifull streets of central Bratislava. You will see St Martin's Cathedral and also Primatial Palace in Bratislava.We will take you to St. Elizabeth's Church – The Blue Little Church in Bratislava which is one of the most beautiful pieces in Art Nouveau achitecture in the world,  of course there will be a photo-stop! We can modify a route a little bit due to traffic and current conditions. We will agree on the exact starting point a drop-off point a few days before your ride. Do not worry – all our locations are based in central Bratislava with tram or buses connections.
---
WHAT TO SEE IN BRATISLAVA
Bratislava is one of the most beautiful landmarks in Europe. The beauty of its historical centre attracts 1 million visitors each year, making it worth mentioning in the bucket list of even the most demanding travellers. On the tour, our english-speaking guide will show you the most significant highlights of this Slovakia city whose creation dates back as far as to the 10th century. The breathtaking examples of Romanesque, Gothic, Baroque, Renaissance and Art Nouveau architecture really draws one's interest, leaving them absolutely amazed.
While observing all these amazing sights, you'll be drinking a nicely chilled mug of draft beer. Let us show you a whole different perspective of the city with centuries-long history, thanks to which the tour will become an absolutely outstanding experience.
---
---
WHO IS THE BEER-BIKE SUITABLE FOR?
Are you planning a gathering with your former classmates, a stag night or a birthday party? Would you like to make your teambuilding event more fun? Beer-bike tours are perfect for anyone who's fond of drinking premium  beer, as well as experiencing unconventional events, while having a great time with their friends and coworkers. Groups of gentlemen might also appreciate having their drinks served by a pretty barmaid whose presence can be arranged for extra cost. With us, your event will turn into an adventurous sightseeing experience full of joy, no matter the occasion.
---
---
WHY CHOOSE US
Our beautiful vehicles are tailored in a way that ensures a pleasant and smooth ride for each participant. We come with a brand new technology. Our bikes are much more comfortable, safe and light.  We do reccommend to capture your journey on a GoPro camera, so you can remind yourself of the fun later on and thus be sure you will never forget it. So, what are you waiting for? Hop on and let all the everyday trouble vanish! We will be glad to welcome you on our bikes. Make sure to check our Facebook or Instagram for the latest info.
Night journeys are accompanied by party lights. We are keen to welcome you on our bikes. Check us on facebook or instagram for latest info.